IT BEEZ LIKE THAT
News from around the League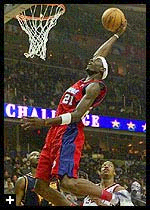 DARIUS MILES
decided to take it E-Z and skip Cleveland Cav's practice. Perhaps D. was trying to finish up Max Payne 2 ("Check me out in Bullet Time, God!" was the official word out of the Miles camp).
There is speculation that Miles was trying to make a statement regarding his lack of clock. As in, can I get some more. As sage practitioners of civil disobedience like J.R. Rider and Jason Richardson can attest, not attending practice is a sure way to make a coach come around to your way of thinking.
keep em guessing, D.
KEITH VAN HORN
and
STEPHON MARBURY
are off to a nice start with mock turtleneck aficionado Lenny Wilkens at the helm. Quotes like, "Stephon is seeing the pass faster. Like a second faster then he used to," from the Stomin' Mormon, and "Keith is always in attack mode," from Marbury (yeah, Keith is a killer), lead this reporter to believe that Haitian Jack has been up at the Garden spreading a little of that egg shell white coke around the home locker room.