IF YOU WANT TO GET ON THEN YOU MUST SEE ME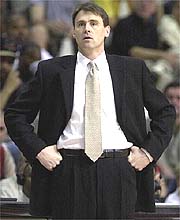 Last night Indy put the kibosh on Detroit's 13 game win blitz in a Central Div. Thunderdome matchup. On the night that G.W. Bush Deuce gave the State of the Union, Jermaine O'Neal painted the White House black, putting up 28 points and 15 boards, despite having former War roadie, Ben Wallace, up in his mix. Wallace opined, ""We had a long winning streak and it was great, but now it's over." Marinate on that.
The fact that head coach Rick Carlisle is the white man Eddie Griffin is talking about when he says, white people coach like this, isn't lost on me or Al Harrington. But something about the robotic way that Indy has been disembowling their opponents this season makes me think that Jersey's reign on the top may have been short like leprechauns.
WHY CAN'T WE BE FRIENDS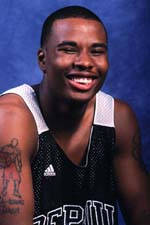 Seems that Quentin Richardson and Keyon Dooling got into a presentation of the old pugilist arts yesterday at practice. Coach Mike Dunleavy felt that the tussle was a good way to wake the squad up from their losing ways. Kinda like the way my middle school gym teacher would lock the door and have opponents get in a squared circle whenever a dodge ball-related melee broke out. Power forward Elton Brand chimed in, "I didn't see it." That's right, son! Fuck a snitch!