WE KEEP BAKING TIL WE GET CAKE!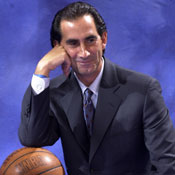 Chauncey Billups Orlando correspondent, James "Remember Lil' Penny" Montgomery chimes in with this farewell to former Magic GM, John Gabriel.
"The Magic just demoted GM-extreme John Gabriel to the nebulous roles of 'team advisor' and 'talent scout.' Good thing, cause if there's one thing Gabes knows, it's scouting. Be it 6'6" shooting guards who can't shoot,
seven-foot stiffs from DePaul, or sub-CBA blanco scrubs (Britton Johnson!), Gabes has seen 'em and signed 'em. Dude stockpiles benchwarmers like Pat Williams adopts Phillipino kids.
Gabriel's replacement is John Weisbrod, who earned his hardwood stripes as GM of the orlando solar bears, out now-defunct INTERNATIONAL HOCKEY LEAGUE"