GHOST IS BACK STRETCH CADILLACS FRUIT COCKTAILS
All that good shit. It's been a long time. I make a border run and the Nets go and win a baker's dozen. Ain't that a bee sting? Let's take a gander at what's been going down in the Association.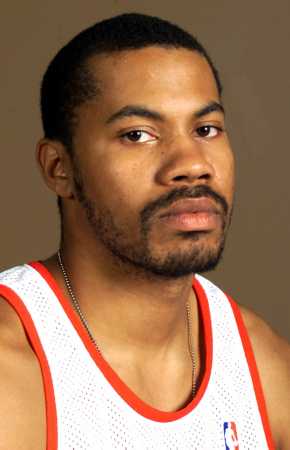 Tormented by the clanging indie rock and overcast skies, Rasheed Wallace was finally traded, as Blazer Big Willie Paul Allen shipped the Simon Gratz grad out of Oregon for good.
Stigmatized as a materialistic stoner with a propensity for loose cannon behavior on the floor, Rash was shipped to....you got it, Atlanta, the stripper capital of the Eastern seaboard. That's a good look for the dude. In return, Portland got a couple of power forward pop tarts in Theo Ratliff and Shareef Abdul-Rahim. Mo Cheeks could not be reached for comment, as he was busy licking a light socket.
Rasheed's stay in ATL. was short lived, as the Hawks' personell maestro, Billy Knight, shipped the kid to Motown for a near-mint Bob Seger's "Smokin' O.P.'s" album, a case of Schlitz and Bob Sura.
While Indiana still lords over the East like Fat Joe at a Cracker Barrel buffet table, and Jerz has been hot, this move puts the Pistons in prime we-will-revoke-your-playoff-life mode.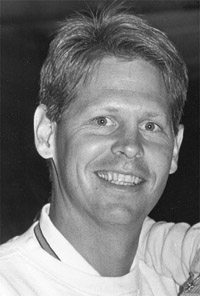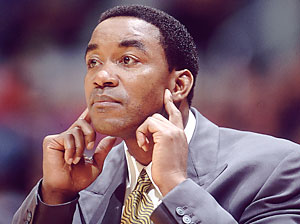 Danny Ainge and Isiah Thomas continued to meddle and mold their respective clubs.
Zeke dumped the Stormin' Mormon, Keith Van Horn, and grabbed himself Tim "Upside" Thomas. As soon as he got a NYC mailing address, Thomas had the audacity to put Sam Cassell, Ray Allen and George Karl on blast, claiming that they were the chief players in a conspiracy to hold him back from triple-double numbers.
Double T dropped 33 and grabbed 10 boards in a loss to a pretty thin (no Brad Miller, Bobby Jackson, or Puff Puff Pass Webber) Kings squad.
In Isiah's quest to make the Knicks more "athletic," he went out and got Nazr Mohammed.
The Knicks' losing ways continued as they were stomped on by the Suns last night. Joe Johnson continued to be in John Blaze zone, putting down 22, with 16 coming in the second half. And Amare Stoudemire had one of his stupid good Moses Malone nights: 24 points and 14 boards.
Stephon Marbury had his verbal calico cocked like the NBA's Alfred Hitchcock, responding to some diss service from Stoudemire, who claimed Steph was a little soft when it came to practicing in pain:
"Someday Amare will go through it. I had two ankle surgeries. But I can't get mad at him for not knowing. I can't get mad at my daughter for not knowing how to go the bathroom."
What, again, is beef?
Meanwhile in the city layed out by a blind man, Danny Ainge continues to make moves that suggest that he has shrapnel in his head. Since taking over a Boston Celtic team that had been to the Eastern Conference finals 2 years ago, and made a decent run last year, and could have been a few missing pieces away from a Conference belt this year, the former Toronto Blue Jay has dispensed with Antoine Walker, Tony Delk, team leader's Eric Williams and Tony Battie and, recently, Vin "Quarters" Baker. In return, he got Ricky Davis Jiri Welsch and a handful of dust.
Ainge's two steps back, to be two steps back philosophy is not really going down well with Paul Pierce and the Celtics are spiralling out of playoff contention and into the lottery.