STRETCH CHINA LIKE...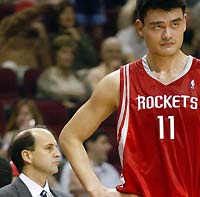 Things are not going so well in Screwston. After aquiring Tracy McGrady over the off-season, the Rockets looked poised to rise like cream to the top of the West. But the Boss Hog Outlawz are playing like half and half.
Maybe it has to do with the fact that 1993 Heisman winner, Charlie "You Need To Get Jesus In Your Life" Ward is their starting PG. Could be that T-Mac is getting double teamed and Yao has still not found his beast mode. Regardless of the reason, they're 3-7 in their last 10, and 6-10 on the season.
When you are desperately anticipating the return of BOB SURA then you know you got issues. Sura had this prediction for his comeback,
"My ability to get in the lane and create easier plays for (McGrady) and Yao, rather than those guys having to work for everything they get, will lighten the load on those guys a little bit. My ability to get in there and get rebounds and try to push the ball and create some easier opportunities for us, we haven't been able to get too much on the fast break, or too many shots in transition, so hopefully I'll help out that way."
That's right, Homie. You are Pistol Pete. We got it twisted.
Gollum-like Head Coach Jeff Van Gundy, who is known to get so stressed during games that coaches next to him begin losing their hair, said, "We're medicore." Not to put too fine a point on it, Sunshine.
When asked what he could do to turn the frown upside down, Yao Ming said, "We've lost our direction." The Ming continued,
"I feel like I must take leadership from he who is bald like egg . I engaged with him in discussion about the future of our Clan. I said, 'Choose the sword, and you will join me. Choose the ball, and you join your mother... in death. You don't understand my words, but you must choose. So... come boy, choose life or death.' In Shanghai we have a saying.'It is not a game.
'