THEY SAY YOU CAN RAP ABOUT ANYTHING BUT JESUS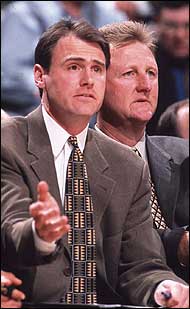 CENTRAL
Indiana-
Legendary Larry of French Lick sent Al Harrington to Atlanta. In return he recieved Stephen Jackson, a sharp-shooting 2 guard.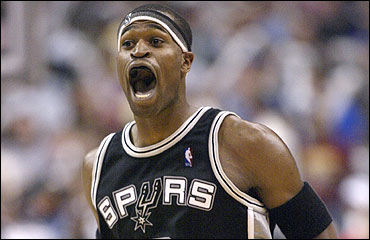 He's already got one championship ring from his stint with the Spurs. And after a year in ATL. purgatoty, Stephen's got a hunger for more. Quoth the raven:
"Just say I'm from Somalia and I need food. That's how hungry I am."
Sometimes this shit just writes itself, people. In the draft, the Pacers picked up mentally unstable but quite tall Colorado big man, David Harrison. Upon rolling into the brickyard city, Harrison declared:
"I want to be an All-Star within the first year of my contract. I want to start my rookie year. I want to make the All-Rookie team."
Bird commented, sanely,
"He has a lot of work to do."
Arm me with harmony.
CLEVELAND-
You know what it means when a player plays for 3 teams in 2 years? Other then the fact that he abides by the Robert DeNiro/
Heat
code of the streets ("Have no attatchments, nothing you cannot walk away from in 30 seconds.")? It means he has PERSONALITY PROBLEMS. Drew Gooden, former Kansas All-American, former lottery pick of the Memphis Grizzlies, and former Juwan Howard backup of the Magic, is now wearing Cavs blue.
He has been brought in to replace the void filled when Carlos Boozer bolted for Utah at the first crack of daylight. Gooden will give the Cav's a much needed offensive boost in the forward spot. He will also give head coach, Paul "I'M TOO OLD FOR THIS SHIT" Silas a headache. Apparently, allegedly, it's chatted about around the campfire that Drew is a big fan of doing it real big. Late-night, club-night, it's one of the reasons he loves life. Gooden famously once told a Sports Illustrated reporter that his girlfriend wasn't Asian, she was Thai. It's a good thing that the Cavaliers offensive philosophy will be something like:
1. BRING BALL UP THE COURT
2. GIVE BALL TO LEBRON
3. GET THE FUCK OUT OF THE WAY
Because that's about all homey can process. Good move, Pax!
Detroit-
They didn't have to do shit. They locked up 'Sheed for what will probably be the last years of his career. Brought in the coming-along Antonio McDyess to back him, up. Lost Mehmet Okur and his eye-rolling ways. Will get Euro Star Carlos Delfino to spell Chauncey and Rip. Darko could only be better. Who's world is this?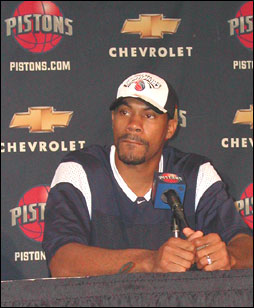 Milwaukee-
They're still the Bucks! And they're Van Horny to get out of the middle of the pack. So repsect to them. It all depends on this dude: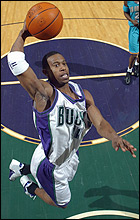 And his faulty spine. T.J. FORD! DO NOT LEAN BACK!