YOU JUST REALLY NEED A HUG, STUPID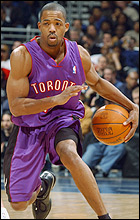 Truly, no division is as beshitted as the Atlantic. I, as a Philadelphian, shiver at the thought that a revitalized Jerz (what with Jason back) team might make a run in a div. where 8-9 gets you first place.
(Which reminds of a dream I had the other night where I was hanging out in a supermarket and some dude got on the Pathmark P.A. and said, "I have a trade to announce. The Sixers had sent Allen Iverson to the Knicks for Allan Houston." And then I started smashing gallons of milk all over the place. I keep it real milk-smashy up in my vision quest state.).
Anywhoo, the T-Dot Raptors are in 4th place, with the mountaintop in their grasp and all. But this is life during war time. And for the Dino's the war is within...the locker room.
Nobody is feeling the emotional shrapnel worse then playground legend-to-NBA-darling, Rafer Alston. At odds with his team and rookie head coach, Sam Mitchell, Alston has threatened retirement, despite the fact that he just signed a six-year multi-million dollar contract. That, and Canadians get the best pills. Rafer could have a little side hustle hooking heads up with Percocet and Cialis.
"You know, I think it's time. I'm tired of getting into it with my teammates, I'm tired of getting into it with coaches. I don't know if I'm a good fit for this team, I don't know if I'm a good fit in this league any more. "
Skip! Aren't you something like one year removed from signing white T-shirts and doing dribbling exhibitions at the Harry Truman fucking Community Center in West Topeka. You really wanna get back on the bus with Hot Sauce?! Do the Dew!
Jalen Rose, who has his finger firmly on the pulse of team dynamics (especially since the American Red Cross has officially declared dude TEAM CANCER), and who is unsurprisingly co-captain of this doomed Exxon Valdez of a team, said, "I've been on teams where guys didn't get along, where guys did nip and tuck at each other, but this is not a team for that."
Immediately following this statement, Jalen caught this man: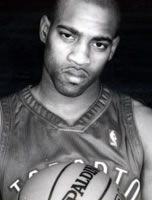 Peeing in his Powerade. Good times.