TOLD EM I FINISHED SCHOOL AND I STARTED MY OWN BUSINESS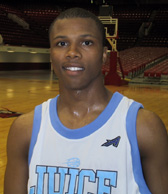 THEY SAID, "OH YOU GRADUATED?"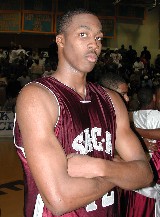 NO I DECIDED I WAS FINISHED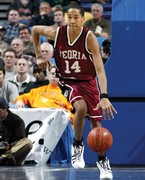 'Tis the season for dozens upon dozens of young men to play, I AM SPARTACUS, trying to will their way into the sacred first round of the NBA Draft. Now of course, if it was me, if I was Sebastian Telfair, say, I would be up in Louisville pronto-like!
Telfair
: Excuse me Coach Pitino, I am truly enjoying my rigorous academic tutoring, and the chance to forge bonds with teammates and classmates alike here in pastoral Kentucky. But I have one favor to ask before me and the Uptown baby, Francisco Rodriguez, roll through March and wrap up this NCAA tournament shit. Would you bychance mind bringing me more of those girls in the Aurora?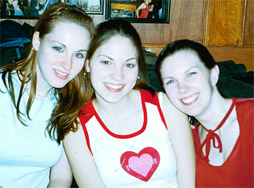 l-r; Tammy, Becky, Laura
But alas, if it is not painfully obvious already, I am not Sebastian Telfair. And my mom does not live in Surfside Gardens. So I say let the kids live. Telfair may ride the bench for two years no matter where he goes, but it seems like, these days at least, college is producing solid players, while high school is producing stars.
It's possible that riding the bench and practicing with NBA players for a few years does nothing to hamper a players growth. Just ask Zach Randolph or Jermaine O'Neal.
They staked out the Gatorade in Portland for a few years, after little or no NCAA experience, and then became Archdukes of the paint.
Josh Smith, Dwight Howard, Al Jefferson, Telfair, Shaun Livingston might go pro. And while I would love to have seen an NCAA tourney with Chris Bosh, Carmelo Anthony, LeBron James, TJ Ford and everyone else who bolted early, you can't really be mad at the decision.