RELAPSE, I STAY ZAPPED, MY URINE AIN'T CLEAN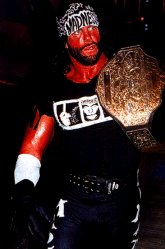 Read the headlines, suckers. Today's the deadline. He who fell from the tree of Marbury is not BALCO-ing it. Just saying that Young Telfair dropped 11 points in 25 minutes for his first significant contribution of the year, as the Blazers beat the Celtics in some last-second shit.
"Once you get that first point you get your momentum. I call it getting, 'hyped,' or, 'amped.'
You got that Blazer babies?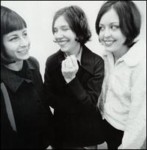 He who gets no tan for he is always in the shadow LeBron went on to say, "Now that I'm getting a little clock I wanna say that, Janet Weiss, I am young, gifted and black. You need to call me, or, as I like to say, 'holler.'
Also happening last night while you were watching
The O.C.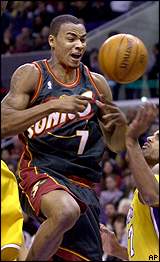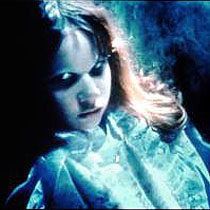 Behold the paranormal analysis of the Max Von Sydow of this hoops shit: Ray Allen declared last night,
"Rashard is playing like a man possessed,"
referring to his bredren in green, Rashard Lewis. The Emerald City kids have been positively skeeting on squads, using their Oswald-range three pointers to dizzy up other teams. Rad Vlad Radmanovic went 5 for 7 from behind the bonus arc and the Sonics ashed on the Mavericks, 107-102. I don't get it either.
Things got a little hectic towards the end of the game when Sonics guard Luke Ridnour undercut Mav's forward Dirk Nowitzki, while both were going for a board, sending Dirk tumbling to the ground. D-Notz was kinda miffed, addressing the press afterwards,
"I don't know what his intentions were. He wasn't going to get the rebound."
After the game, Nowitzki gave a talk to 500 German exchange students where he let his nifty mane down a little bit more.
"Children. Many of you may have witnessed the spill I took tonight. I know that you must have gasped as I rolled on the floor in deep pain after the little Herr Ridnour foolishly took my legs out from under me. Some may wonder, why did I not retaliate. Do not worry, my little angels from the Fatherland. I will see that dude. And when I do, I will tear his fucking heart out like Mola Ram. One love, my little Short Round's."