YOU'LL BE WEARING A BLACK SUIT A LONG TIME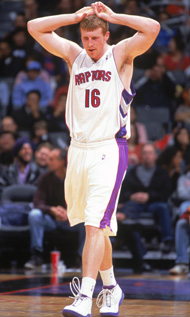 A Univesity of Florida education. It is the stuff that bench warmers and real estate agents are made of. One thing they apparently don't teach on the manicured lawns or under the flourescent lights of UF is self-preservation, because last night Raptors forward and UF alum Matt Bonner--the dude his teammates affectionately call, "Opie,"--stared death in the eye.
As his Raptors team approached the home stretch of a game with the Timberwolves, a game they would eventually win, Bonner made a hard foul on Kevin Garnett, sending him to the ground. According the Last fucking Mohican, KG:
"It was a hard foul. That didn't even spark me until I saw him pointing into the crowd like he's some enforcer."
When Matt Bonner, a man who told the Raptors website that he would like NAPOLEAN DYNAMITE TO PLAY HIM IN THE MOVIE OF HIS LIFE, started feeling his own gangster a little to much, he was rather abruptly pursued by both Garnett and Latrell Sprewell. Even Rap's coach Sam Mitchell had to laugh

"I think his life flashed in front of his eyes when Latrell Sprewell and Kevin Garnett went running at him."
Matty tried to front to the press after the game,
"Never in a million years did I expect to be ejected from an NBA game in the fourth quarter, with two of the greatest players in the league coming for my throat. My life wasn't flashing in front of me, [because] it just seemed so surreal."
Ok, Tuffy. We all know next time the Raps and Wolves man up, dude's face is gonna like my Mom's back in March of 1990 when I came in skipping into the house with this tape in my hand...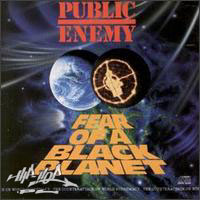 Welcome to the Terrordome, Opie!