AND SHE KEEP ASKING, "HOW IT SHOOT IF IT'S PLASTIC?"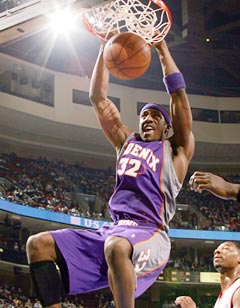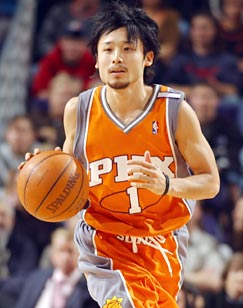 Word to Cedric Ceballos, the Phoenix Suns are really bringing back the old-school (to me, because I'm
Kicking and Screaming
like that) style of play that made me love basketball in the first place. I'm talking about the Running Rebel Anderson Hunt! The fuck you know about Mookie Blaylock and the Sooners, dude?! Fuck a NCAA violation!
The Suns are 18-3, first place in the whole damn world. Even Kobe "
Keep Your Hands Off My Mexican
" Bryant is looking up to these multi-culti young gunners, as they sit comfortably at the top of the Pacific.
With free-agent signee Steve Nash, and his international house of point guards back-ups, Leandro Barbosa and Yuta Tabuse, the Suns are basically pushing the ball down opposing teams throats and out their asses. And then that's where the most popular four men in McCain Town come in. When either Amare Stoudemire, Joe Johnson, Quentin Richardson, or Shaw Marion are coming through the lane you better move! You (and when I say you, I mean Chris Mihm) will get ironed, steamed and cleaned the fuck up!
Young Q. Richardosn, aka Mr. Brandy, is not getting carried away with all the success:
"It's definitely a nice thing, but all this means nothing if we start going downhill."
Okay there, Sylvia Plath. You were on the Clippers last year. How about a little carpe diem?!
I mean think about it: we could be unshackled from the cornea mauling half-court clusterfucking that the likes of Jeff Van Gundy and Rick Carlisle hath wrought! Is there a new era of freedom that will come rising like, well, not a Phoenix, because that ruins this riff...but you see what I'm getting at.
After feeling the burn last night, losing to the Suns 121-100, Orlando Magic PG Steve Francis pondered this very question. Could the run and gun stylee bring a trophy to the desert?
"I don't want to say it won't work. But it would be so hard for them to do that throughout the playoffs. I don't think in history there's been a team to run to the championship. But you never know. They might be the first."
Ah, but point of order, Franchise: We all know what happens to those who try to change the game...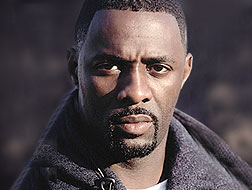 What did I tell you about playing those away games, Stringer!