I CARRY STRIPES IN HOOD. I AM ZEBRA.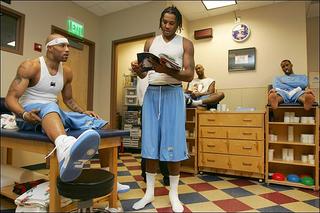 Shit, we're possesed like a gun charge over here. Denver is looking mighty healthy this year. Got a few qualms with Kiki signing Earl Watson this off seas. You know who else has beef with that signing? Earl fucking Watson, that's who! Dude kept Memphis afloat last season while JWill was playing like a meth addict robbing a fucking Sonic (don't know what that means). Kiki signed dude to shore up the backcourt (and probably as an insurance policy in case the Nugs traded the always tradeable Andre Miller), but now it seems like the only wood Earl's gonna see is that on which he will be sitting. Because he will be sittng on the bench. Not playing.
Check head coach and friend of Monterey Jack Burgers everywhere, George Karl:
"Earl's a very good basketball player, (but) it's just playing time. How much playing time do you have for three (point) guards? It's very hard. You've got 48 minutes."
A fine grasp of rules and regulations and the limitations imposed by said rules. He ain't going to Springfield for nothing. George went on:


"And I think Andre's got to be on the court for at least 30 of those minutes and Earl (Boykins), last year, was as good a bench player as there was in basketball
.
"

This is the kind of thing you wa
nna think about before dedicating several million dollars to a dude. Saying.

Karl will fiigure it out though. He does stuff like this: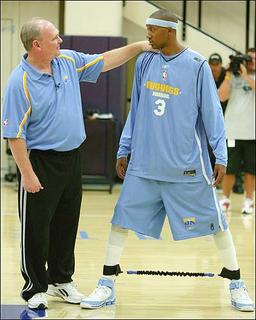 Stop stealing his fucking adlibs! Anyone notice anything about the first pic? Kenyon: straight Vin Dieseling. Carmelo? He's loving it.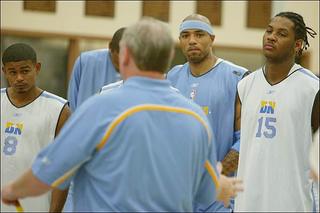 Lala needs to put you on the Trim Spa game, Melo. Stop Snackin'!