I AM THE MOTHERFUCKING SHORE PATROL, MOTHERFUCKER!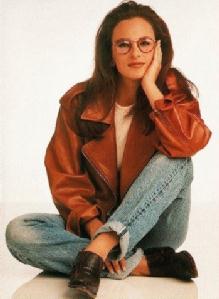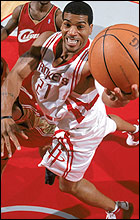 New Orleans: The Movie...starring Marlee Matlin as Jim Jackson because BRAH CAN'T HEAR THE NOLIA CLAP. Traded by Houston to Nawlins for David Wesley, Double J elected to flip the bird to the trifling Hornets by not reporting for duty. GM Alan Bristow, in trying to sell his bottom-feeding club to Jackson, via the media, had this to say:
"
One thing I know, when you talk about the Hornets and our record right now, we're 2-25 and certainly that's a very discouraging mark. But, over the last 14 years, we've been winners. We've been .500 or better
. The Hornets have established a strong winning tradition over the years. We plan to continue to work tirelessly to get back to that."
Alan! I can see the coke in your nose! I mean I loved that shit when Baron Davis had a functioning spine a few years ago and he stuck crazy threes in McGrady's ass...but, Baby! You guys haven't been cool since Larry Johnson put a crease in your caesar! Jim Jackson was recently traded to Phoenix for chump change, Casey Jacobsen, and a can of Sparks. Nice work, Jerry West Jr.!
In other news...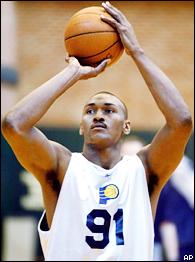 With Ron Artest back in the mix, at least for practice, Indy's Head Coach, Rick Carlisle made the understatement of our young year:
"Having a guy like Ron in practice helps raise the level of practice in terms of intensity."
Which basically means Pacers practice is no longer Jon Bender hopping around on one foot talking 'bout ain't no half stepping. Bender! Get some of the clear and cream! You're like 15 years old!
and..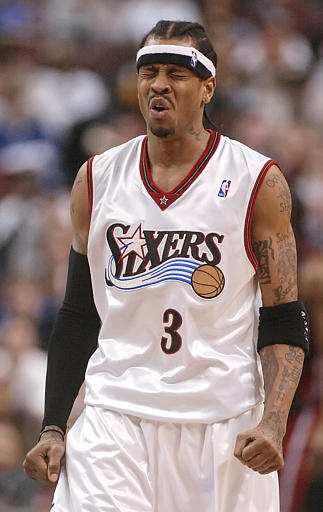 Last night, the Sixers, fueled by Allen Iverson's 45 points beat the Eastern Conference alpha dogs, Miami Heat. In the Philly crowd that night were members of THE NATIONAL FOOTBALL CONFERENCE CHAMPION PHILADELPHIA EAGLES inlcuding McNabb, Westbrook and...

That dude who's gonna put Rodney Harrison in therapy...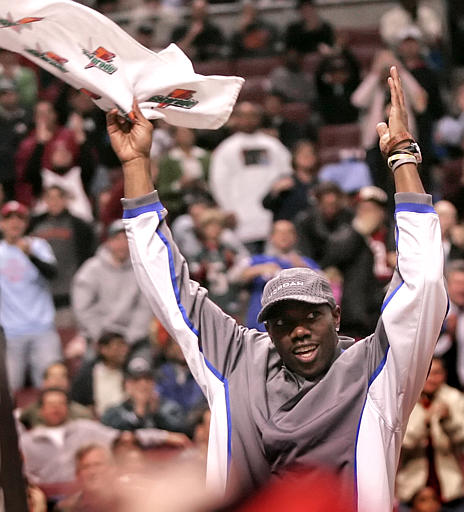 and...
THE SULTAN OF SLOT...THE PEOPLE'S CHOICE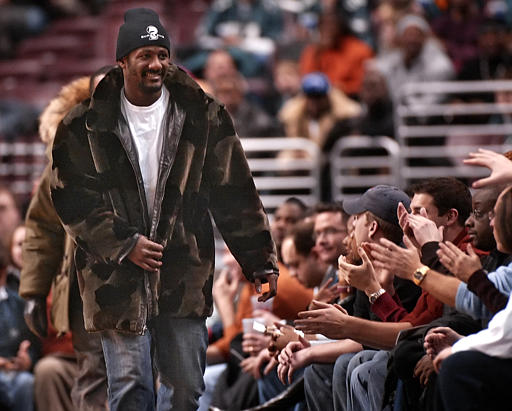 Freddie Mitchell. Who was, interstingly enough, at the game with Jaleel White. No kidding. Anyway, when the game was tied at 83, they showed highlights of the Eagles season which put the place in a complete frenzy, leading Iverson to go off. I swear to god, reading
this
just about made a dude feel like he was watching Field of Dreams for the first time! Let's have a catch, Dad!
Despite being on top of the Eastern Conference, Miami is 5-6 in their last 11, and this made Shaq opine after game,
"I was telling the guys in the shower we have 40 games left and we need to go 30-10."
That must be quite a personal hygeine experience.