HOW THE EAST WAS...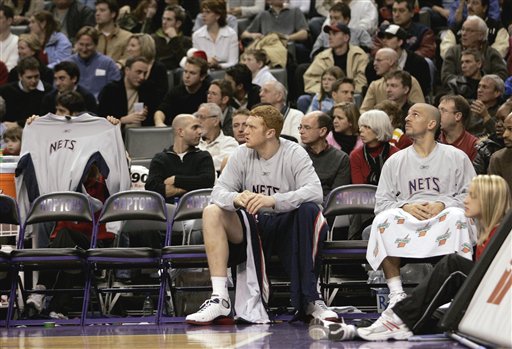 Made somewhat more intersting? Half-man/
Half-Butterscotch Krimpet
is coming to the Swamp. Some in
Jerz
might be pretty excited to see Vince Carter run the break with the Kidd and the kid, Richard Jefferson (though isn't R.J. a younger, more durable version of Vinsanity, Rod Thorn?).
Lord knows when Carter will throw on the Meadowlands Blue, as his achilles heel continues to be his Achilles Heel. Jersey coach Lawrence Frank was cautious,
"There is obviously a great deal of tenderness there. We've seen it during examination."
Oh, she may be weary...Carolina alums do get weary...
Toronto recieved some scrappy players in return. Good on them. They will still suck exhaust unless Chris Bosh becomes the second coming of Moses Malone.
The real winner of this trade may well turn out to be Sonny Crocket's Miami Heat. Word around Peter Vescey's toupe closet has it that Pat Riley is close to signing the traded-and-soon-to-be-released Alonzo Mourning for the league minimum. They are also trying to work out a deal that would send the legally blind Eddie Jones to Toronto for Jalen Rose. Wade, Jalen, Shaq and a kidney-hampered Zo is still enough for this Eastern Conference.