STEP INSIDE THE BOOTH, SUPERMAN IS ALIVE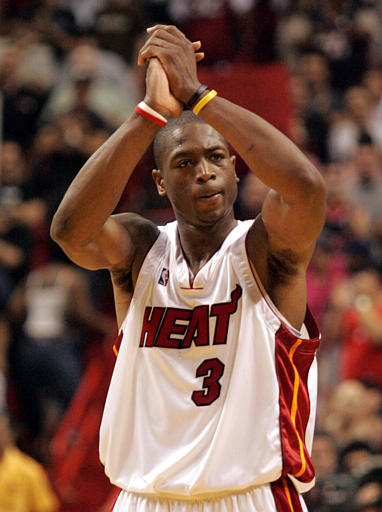 -Miami beat the Spurs last night. Just to show you who wears the cape on the Heat side, Wade had a 28-5-6. One-kidney-'Zo is on the way, Eddie Jones' finger is in a splint, and pretty soon they're probably gonna be able to swipe Rafer, Donyell Marshall and Jalen from the Raptors for Season One of Miami Vice. Maybe some of those Western Conference crews are taking notice. Sayeth Ginobilli:
"They made a couple of big shots. We didn't. That's why they won the game."
Manu, you a genius!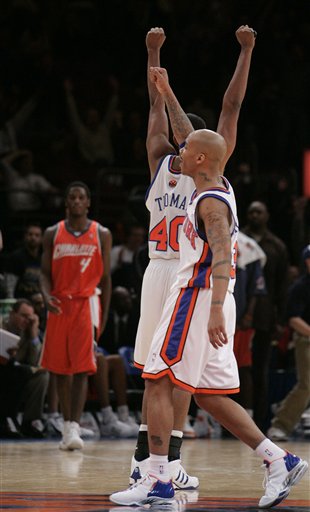 word. you dudes are champions.
- Speaking of the Leastern Conference heavyweights,
the Knicks won a game last night.
The unlikely hero was none other then Tim Thomas. Tx2 has been competing with Gilbert Arenas for over a year now in the, KANYE WEST OF THE NBA/DID HE JUST SAY THAT? competition. I will happily not call this a comeback for the Knicks as they defeated none other then the Bobcats who were playing without Emeka Okafor AND PRIMOZ BREZEC. So it's sorta like beating France at war with no Napoleon. The AP recap of the game quotes a Bobcat by the name of Bernard Robinson (who I will give propers to for this underhanded jab at Thomas, "
For something to go in like (Thomas' shot), it happens in the game of basketball
." Damn, Tim! Bernard Robinson said that you making a shot is like something that mathematically must occur in our universe but has no actual representation of skill on your part...ponder that, Wildcat.) ....I seriously have not even heard of half the dudes wearing Bobcat Orange. I feel like GM/Coach Bernie Bickerstaff is like, "Yo! I was at YMCA on 63rd, kid! This dude Bernard Robinson, he works over at Best Buy, but kid has up's!" Bernie! Get a scout!