I'LL MAKE THEM PRAY FOR YOU 'TIL 5 IN THE MORNING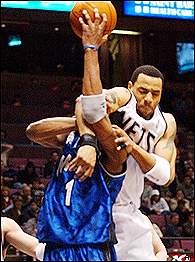 The Bucks fended off the Nets last night in an Eastern Conference duel. But the game itself became the undercard as New Jersey power forward, Cincinatti University "alumnus" and honorary Mash Out Posse member, Kenyon Martin got into a bit of an argument with high flying candy-ass, Desmond Mason. Martin told the media following the game
"I can't stand that boy, man," Martin said. "I'm going to whip his (rear). He's a punk and you can write that."
Don't fret K-Mart, WE WILL PUT QUILL TO PAPYRUS TO MAKE CERTAIN YOUR WORDS ARE HEARD ACROSS THE LAND!
A note to Desmon Mason, if you see Kenyon coming at ya in the playoffs, and he looks something like this...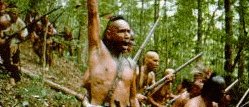 Run.