I'M MATT HARPRING, BITCH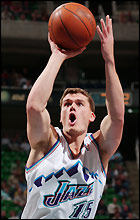 Utah small forward, Matt Harpring, chimes in with this update from the Salt Lake state.
Harpring:
What is really hood, people. It's, your boy, the Rubberband Man, Matt Harpring. First off I wanna say big up to all my people burning trees in Moab (stay smoking babies!), all the Provo gangsters, and of course, can't forget the Salt Lake heads, who steady stays up on the block. Salute, soldier!
I also wanna send a shout out to all my boys back in Philly, repping Ice City (I ain't forget!): Freeweezy, Peedi Crakk, Jack Frost, O. and Sparks and the whole State Prop Chain Gang! Roc for life!
Ok. Why I'm writing is real simple. I want to let everyone in this West Coast playoff dogfight to know, I want you all to know...
IT IS NOT A GAME.
Oh, I know it's
a game.
I went to Georgia Tech, kid. So I know the blueprint. Haters think just because I'm on the injured reserve with my bum knee, like my team isn't about to fuck people up. Well, don't get it twisted. First off, the God, the motherfucking A-K, Andrei Kirilenko, he's gonna lead our squad to the promised land. Just check Dr. Drei staying on his grizzle in his off time, breaking down the stats (and playing a little Frogger! I see you Drei, haha!)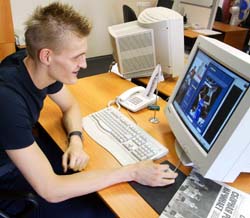 Haha. Enough laughing! Shit ain't cookies and milk. And I sure as hell ain't Santa Claus. You wanna know why we're gonna lock up that 8th playoff spot. Secret weapons, children. We got WMD's baby. Who you may ask? None other then my boy, Curtis Borchardt!
Ayo, Curt! Ain't no half stepping, you cracker ass cracker! This motherfucker think he smart, went to Stanford or something. But the boy's got heart, and that's more then you can say for those hippies up in Portland. You're all a bunch of softbatch tricks! Qyntell Woods, you still owe me cash for those trees over All-Star weekend! When you see me on the street show me some respect. Word to Jesus Christ and the Church of Latter Day Saints, it ain't a playoff party unless the Utah Jazz is invited. Unleash the flutes, Guru! Matt Harpring, and I'm out, see you in May!