JUST TO GET A REP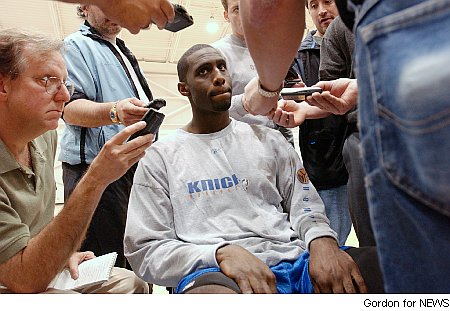 Tim T...hard as nails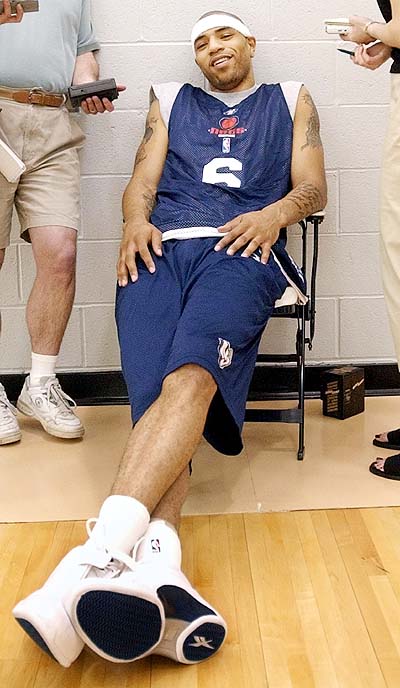 Kenyon Martin considers turning Tim Thomas into a caserole
Much like a pretzel, Tim Thomas has it all twisted. After getting hacked with all the playoff vigor that Stanford-grad, Jason Collins could muster, Thomas was knocked to the ground, suffereing mad contusions on his back. Oh the contusions.
Tim kept his trap trapped for about a few days, as the Nets performed two alley-oop clinics on the Knicks, blowing them out in consecutive games at the Meadowlands.
The series moves to the Garden for game three (tonight), with quite a bit of added melodrama. It would seem that Thomas, who has over the course of this season put Ray Allen, Sam Cassell and Glenn Robinson on blast, as well as former coach George Karl, all for apparently holding back his X-Man level game, went on a 15 minute rant about the bitch-made softbatchness of both the Nets AND his own Knicks teammates.
"My goal is just to get back out there on the court before this series is over so I can go hit somebody. That's it. That's all I'm looking forward to...When I was laying on the floor I was expecting somebody to do something, to push, to shove, anybody. But it never happened... In that situation you have to respond. You have to, that's the bottom line....For it to go down that way and for nobody to really respond, I'm just waiting for somebody to do something."
Thomas also repeatedly called Kenyon Martin a "fugazy," a term popularized by Al Pacino in Donnie Brasco. It means fake.
Kenyon responded by cryptically calling Thomas a pandora's box (ChaunceyBillups was unaware that inside the 6-11 frame of Tim Thomas lay all the miseries and evils that could possibly effect the human race)...going on to say: "He knows I'm going to be there at 7 o'clock tonight," Martin said. "He knows where to find me. ... Lock me and him in a room together and see who comes out."
This is a public service announcement brought to you by Just Blaze and the good people at Bellvue Hospital:
TIM THOMAS. STOP TAKING CRAZY PILLS. YOU SOUND LIKE YOU HAVE A DEATHWISH.
K-Mart will put hands on you and you will be like, Leggo my Eggo!