SHAKING LIKE ALI HOLDING THE TORCH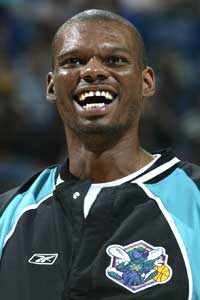 Jamal Mashburn is not really getting his warrior face on these days. No. Monster Mash, once a nimble small forward with inside-outside game has become softer then Ken Griffey Jr. eating Cotton Candy on water bed. And that is some soft shit! A bruise on his right knee kept him out of all but 19 games this season, as his Hornets teammates struggled into the playoffs. Left off the post-season roster, Mash has taken the spotlight away from his New Orleans squad and their uphill battle against the hot, hot Heat.
"This organization and the way things were done, I've been misdiagnosed a couple of times,"
That happened to me once, son. I feel you there.
"And it has gotten to the point where I have to take care of myself,"
Oh shit! Never that!
"It kind of shows you what pro sports is all about. Sometimes it's not the athlete's best interest that's in mind. They just want you out there on the court."
Goodbye cruel world! Pass the UNICEF box down the pew, people. Jam-onit is in need! These comments put Jamal in the Jared Leto Ghetto. Fuly expect to see his name mentioned with Vince Carter, T-Mac and half a dozen other current and former all-stars who may be changing zip codes this summer.