NO MORE PEACE AND QUIET FOR THE WAR LIKE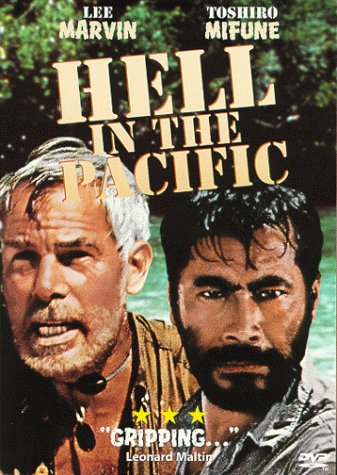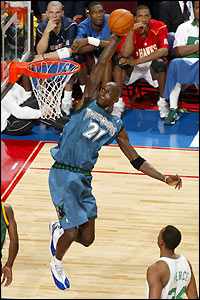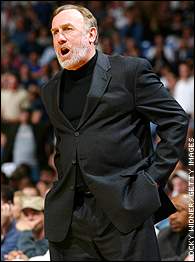 Yes indeed. Yesterday was task force Tuesday and we all had to slog through those two boring ass games. Don't even front. I love Detroit, but them dudes make watching hoop about as much fun as learning French and getting dental surgery at the same time. When the most exciting thing happening in a series is two old ass white men (Nets GM, Rod Thorn, and Pistons' head carpet bagger, Larry Brown) sniping at each other, you know you got problems.
And despite the fact that Tony Parker is becoming a star in the Spurs-Lakers series, it doesn't change the fact THAT I AM MAD TIRED OF WATCHING THESE FUCKERS PLAY EACH OTHER. Can we just fast forward to a game 7 already? Please, Dave Stern!?
However...
The 1-4 games are on some The Shining type of crazy. We can talk about The Miami Vices straight up agitating Rick Carlisle's blown-dry serenity in a little bit...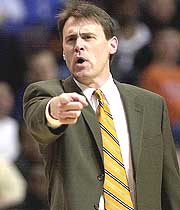 But the T-Wolves/Kings series is where it's at. The Wolves went up 2-1 on Sac. with Kevin Garnett becoming a super nova bursting at the seams, and the Wolves look like they might have the Kings on the run. Says Sam Cassell, "I just tell everybody, 'Don't be overzealous about anything we've done so far,."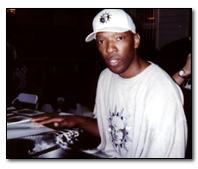 Sam continued, "Look at me, dog. I am clearly an extra-terrestial being. Look at my head, baby. So I have perspective, mang. We just need to be easy, drink that creatine, play some Max Payne 2, stay focused, and we will bang these fools all the way back to Cali, Cali! Peace to my home planet of Zoron, I'm out."
But Sammy is in too deep to be out! When the Wolves are in the house you better come equipped!