AND THE WHITE MAN GETS PAID OFF OF ALL OF THAT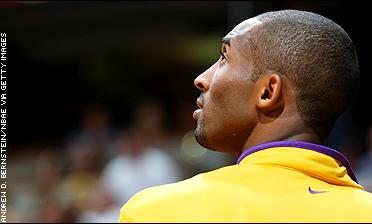 We decided to get off the hammock
and take a walk up to the high ground, surveying all of the front-loaded, Sprewell Escalade escapades the NBA's GM's have taken.
Your Chauncey Billups off-season review, with new division allignments!
SOUTHEAST!
Atlanta-
A-Town! I went to the Hawks' page on
NBA.com
and you know who's the face of the franchise? The first person you see? BOB FUCKING SURA.
The Hawks totally shit the bed this summer. They had crazy cap room and all the got was Al Harrington on a sign and trade. Harrington wanted to start, even if that meant playing for a team with 6 small forwards and no fans. Eyes on the prize, young. Big Al had this to say upon setting foot in the Derrty:
"I am finally in a position where I can really be a role model for my teammates – it's bigger than just starting. Now I have a lot of responsibilities and these are responsibilities that I have been looking for the last two years of my career. I'm very excited be here and we are going to get it 'poppin' out here again."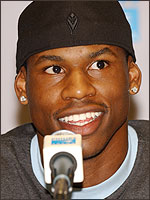 LET'S GET IT ON AND POPPING, YOU SAY?! Oh wait, we can't. Because Jason Terry just killed himself. See he realized he's still on the Hawks. Get some sixth sense, B. Al Harrington is straight molding young minds. They will maybe win 15 games.
Charlotte-
THEY DON'T KNOWWWWWW WHO WE BEEEEEEEEEEEE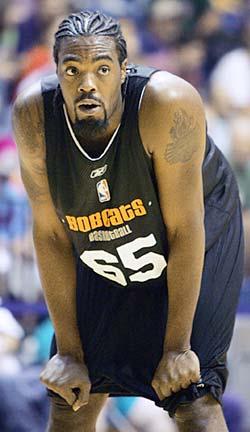 RESPECT MELVIN ELY'S GANGSTER! Yeah, they got Okafor, who will make Orlando pay all year for picking Jesus Walks Howard with the first draft pick. But who else is gonna be rocking Bobcat blue? How about Young Melvin Ely, freshly plucked via the expansion draft from the Clippers. This Fresno State alum, for lack of a better term, got no love on Mike Dunleavy's Clipper squad. He's now ready, hyped and amped to be in N.C.
"I want to be a better player and coach (Bernie Bickerstaff) wants me to be a better player. I really didn't feel that in L.A. It was really, if you got better, you got better, and if you didn't, you didn't."
When we two-wayed Mike Dunleavy he had this to say about the whole Elygate:
MELVIN IS A POP TART. ALL SWEET IN THE MIDDLE. LOL. I DON'T CARE ABOUT HIS PROBLEMS OR MISHAPS. I AM FROM BROOKLYN AND SHIT HAPPENS. TERROR SQUAAAAAAAAD. BIG PUN REST IN PEACE. MEL NEEDS TO PULL UP A PANT LEG AND DO THE ROCKAWAY. WE HERE AT THE CLIP SHIP DON'T GIVE A FUHHHH. PLAY ON PLAYER.
Hopefully Coach/GM Bernie Bickerstaff (career record of 338-348...he's the architecht!) will coax the beast from within.
ORLANDO- Orlando GM/Pres. whatever John Weisbrod comes to Hoop City after being an executive with several NHL franchises. When asked, What's the recipe? Weis responded:
"There are three key elements to getting deep and going long on a playoff run, okay? 1. Muck it up in the corners. 2. Get a hot goalie. And 3....MUCK IT UP IN THE CORNERS!"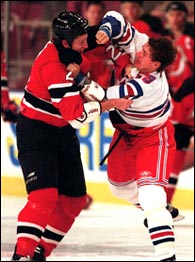 The Magic have three guards tippey toeing over six feet, with Steve Francis and Cuttino Mobely, along with draftee Jameer Nelson. Then they got Bible-thumping blue chip Dwight Howard who couldn't hit water falling out of a boat during summer league action. Then...
YOUNG TURK!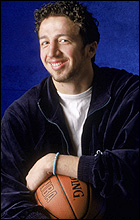 MIAMI- The Southeast is theirs to lose. Basically traded Lamar Odom for Shaq. Caron Butler is probably going to wind up being real solid. But not an all-star. Brian Grant is Moses old, has bad kness, and can't play center in the West. So Riley definitely smoked L.A. on that one. Dwayne Wade is about to become a career-long all-star, barring any unforseen 'dro busts or head trips. They could pad the squad with NBDL upstarts and University of Cincinnati dropouts and still go deep in the East playoffs. They will probably fill up the rest of the team with Robert Horry/Karl Malone types who do their thing when the time is right. Wouldn't shock a soul if they were in the finals next year.
WASHINGTON- There are lots of models for teams. There's the Bulls/Lakers 2-stars-and-a-bunch-of-role-players. Then there's the Grizzlies/Pistons blue collar do-everything-right model. But only Washington is following the obscure blueprint of the 2002-2003 Golden State Warriors. Washington GM Ernie Grunfeld is so enamored by the Bay Area squad of yesteryear, that he has reunited the cornerstones for that 38-44 juggernaut. Yes, Antawn Jamison is back with Gil Arenas.
Commented slept on off-guard Larry Hughes: "We know him and we know what he can do. We won't need a feeling-out process, because we know Antawn."
U Gotta Feel Him. But you don't need to go through the process of feeling him, because he's already felt. Might make the playoffs if any of the cupcakes they drafted in the last few years (Jared Jeffries, Kwame Brown) decides to let it bang.