PISSED ON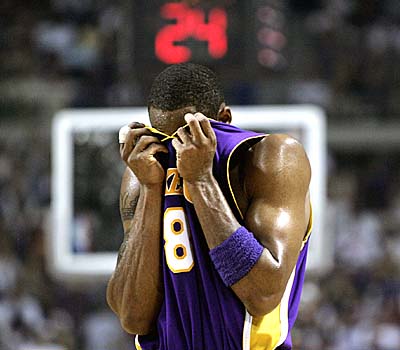 Larry wins one, the right way. My mang gets MVP. Rip becomes NBA royalty. Rasheed gets paid back. AND DUNNY DARKO BREAKS HIS HAND (no joke!) PUTTING THE NAILS IN THE COFFIN.
said the Milic:
Milic: They're lucky I broke my mitt, God. I was about to tomahawk some shit like my name was Sitting Bull. Holler at a real Injun! Ask Luke Walton! I was fittin' to knock him outta his L.A. Gear's! Seriously, Skywalker...L.A. Gear? In this day and age? To all the haters who think I won't get my shine this time next year? It's like the Clover G, Lil' Flip, said, "I got your girl taking off her G-String, I'm in the drop pumping 'Nothin' But A G Thing!'" Darko comes alive in 2005! One!
Yo, the Pistons straight up made the NBA fucking interesting again. Okay, that 10 minute streak at the end, the one that resembled the alumni of UNLV playing a drug rehab center squad...that wasn't too cool. But by picking apart the Lakers, by pretty much insuring they will be broken up, and by showing that an East Coast squad can come equipped, the Pistons did more for hoops then anyone could have asked from them.
As for the Lake show?
"It was a Cinderella story, actually, that this team had,"
said Phil Jackson, with one toe in a Montana trout river and one toe in the COMPLETE LACK OF IRONY ZONE.
Peace out, Karl Malone. Have a nice summer fucking elk poaching or whatever. Don't hurry back.