I KEEP TRASH BAGS!
Things got all unsportsmanlike last night at the Target Center, where Minnesota tied up their Western Conference Finals series with the Lakers, 1-1. Despite no Sam Cassell--who pulled an Estelle Getty, and kept his battered hips on the bench--the Wolves came out gunning...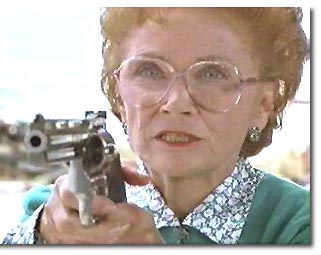 And smacked the Lake show in the mouth a little,winning big at home, 89-71.
Things got a little heated towards the end of the game, when 7 technical fouls were handed out. Karl Malone got up to his usual good samaritan elbowing of people who are a foot shorter then him (Darrick Martin, HOLD YA HEAD, BABY!). Even Shaq got messy with former teammate, Mark Madsen. Luckily for the world's biggest Amy Grant fan, Gary Trent was in the wind to get his back.
"He pushed Mark and I pushed him (O'Neal). That was it,"
When asked if he was shook by Big Aristotle's solid frame and imposing glare, Trent responded:
"Be scared for what? For what? Be afraid of him. Everybody pumps blood and everybody can die..."
Trent then grew a unibrow and continued...
"Me on the other hand...I got an unknown past. Word has it I was trained as a Samurai and then wound up in a experimental program in the Canadian military. Some people seem to think I went to University of Ohio for a minute. I can't call it. I don't really remember too much of it. I got motherfucking adamntium bones and muscle tissue that regenerates on it's own, and big fucking claws that pop out my hand whenever I fly into a beserker rage. Which happens on a dime. Just ask Flip. So, Shaq fucking Diesel, I wouldn't get to comfy down on the low block...Ya big goofy Shazam-acting trick. Snikt, snikt."