I'VE BEEN RUNNING NEW YORK SO LONG I'M EXHAUSTED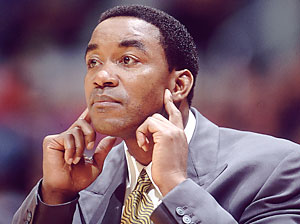 ATLANTIC
New York
- You see this car?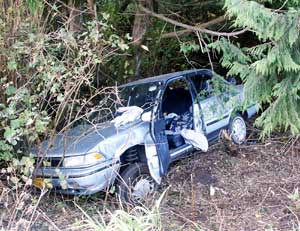 That's a fine automobile, isn't it? It's flexible. It's blue. Blue is a nice color. And it doesn't have unnecessary accoutrements like doors or windows. Who needs that shit, right? That driver's side front wheel, is just hanging there. You know why? Because this car is chillin. It's like, 'Hey, I'll be here when you need me. Be easy.' Now, I would like you to take this car off my hands. It takes thousands of dollars of upkeep and it's not so reliable. But it is, in fact, a vehicle. It does go foward and backwards. In return? All I ask is this: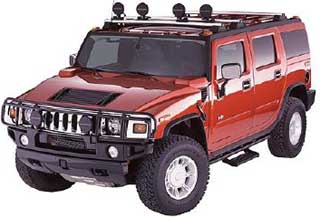 No? You don't wanna deal? Hmmm.
Funny that. This is Isiah Thomas' front-office philosophy. We have a bunch of overpaid, underperforming, undersized power forwards. And we would like you take them and their balloning, cap cancer contracts. And all we ask in return are tall combo guards capable of scoring 30 a night. The Knicks have been desperately trying to entice Jamal Crawford away from the Bulls, so that he may be the third guard in their backcourt allergic to passing. I would love to see a Knicks lineup of Steph Marbury, Allen Houston, Crawford, Qyntell Woods and J.R. Rider. That would be like basketball LSD. Keep on keepin' on, Zeke.
Philadelphia-
Fuck a point guard! New Head Coach Jim O'Brien wasted little time installing his BANK LEFT, MAVERICK! BANK LEFT!!! Offense. Long range bombing at mach-2 speed!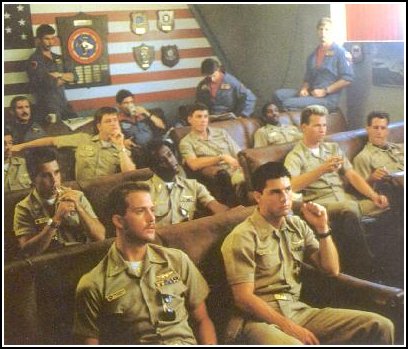 the Sixers break down film
Gone is the traditional dribble, dribble pass bullshit of Eric Snow. Installed is the high flying deep-threatening, top gunning backcourt of Allen Iverson and Willie Green (recognize the lack of size!).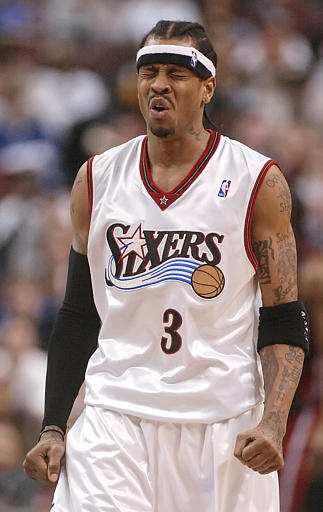 And just when you thought it was safe...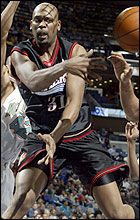 The Purdue Pitbull is back for another season of TAKE IT EZ style offensive hijinks! Let the Big Dog Eat!!! No other particularly fascinating additions to the squad, other then the return of Kevin Ollie and the drafting of A.I. Volume 2 (Andre Iguodala). If everything falls into place Ice City is going 82-0. Or at least win the division.
Boston-
Ayo, Marcus Banks, you know who that is on your side?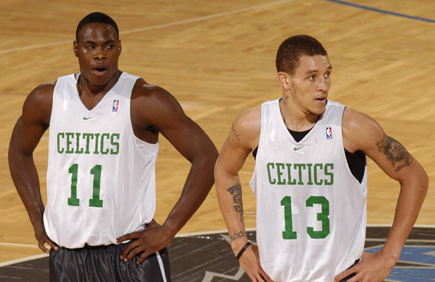 DELONTE WEST! LORD OF THE RINGS 4: THE RETURN OF THE REDHEAD KINGPIN!!!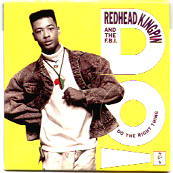 I kinda love this Boston team. Nothing but crazy swing players. NOBODY wants to pass the ball up in the Garden. Doc Rivers will have his hands full with a locker room where Ricky Davis is one of the veterans. But they could do some work. Al Jefferson (6-10 high school banger) Tony Allen (defensive specialist outta Okla. State) and Young Delonte all tore up the summer league. Paul Pierce and Mark Blount (coming off a career (read contract) year) will anchor the squad and if the young'ns cam come through...In the meantime mad scientist and VP of the team, Danny Ainge has been doing his best to re-acquire Eric Williams and Rodney Rogers, two big bodies he sent packing when he decided to remake the team in his image (unstable shooting guards). Beware of the Green Machine.
New Jersey-
Well this has been a catastrophic couple of months. Kenyon is gone to Denver (for basically nothing). Kidd is on the last few years of his career. Richard Jefferson is already pulling an, "I just work here," kinda attitude, and Rod Thorn (the dude who built the team in the first place) was trying to go to Toronto as recently as the Spring. So...here's a very likely scenario: Kidd is well enough to play, but keeps it in third gear for a while, and gets traded to San Antonio for Tony Parker and picks before the All-Star break. Then RJ decides he'd rather not hang around for the rebuilding, and they ship him somewhere (Phoenix?) before his contract is up and they get nothing in return. And then you got Brian Scalabrine and the Fabulous Four.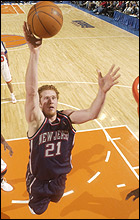 the face of a franchise?