SHE KNEW HER SON HAD A BIG MOUTH AND ONE DAY DEATH WOULD OCCUR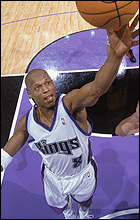 I think the Wolves will win game 7. I think they will win because all the energy that Kevin Garnett saved up when he didn't turn Anthony Peeler's head into a canoe, will be channeled into dropping the Kings like a high school girlfriend in the second semester of your freshman year.
But that being said, let me say this.
This dude: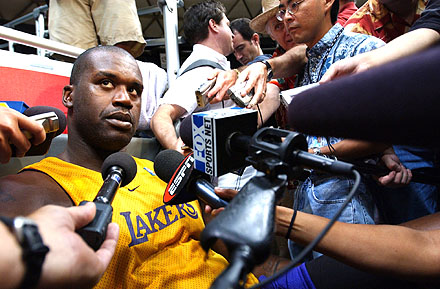 Is not the same as this dude:
.

so, this dude: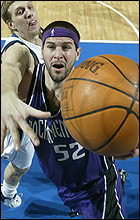 BETTER CHILL.
I am not a fan of the Lakers. I don't think that Phil Jackson lending Michael Jordan a copy of
All The Pretty Horses
and winning a bunch of rings with the three best players of the last 20 years really makes him a good coach. I don't particularly want to see Kobe hoist another trophy, or give Karl Malone or Gary Payton the satisfaction of feeling vindicated for their wringer-dom.
But...
If the Kings win, I want the Lakers to annihilate them.
I hope Kobe averages 47 a game and breaks up Doug Christie's marriage. I hope Shaq and Mailman play ping pong with Brad Miller's head and feed his remains to Malone's pet cougar. I hope Gary Payton rediscovers his early-90's mojo and starts tossing Spiderman alley-oop's to Devan George who will be mimicking the Skinny-yet-Muscular-era Shawn Kemp.
I am so sick and fucking sick of watching the Kings, with their SUV-driving, fake boobs-having, glow-stick throwing in-bred fans, their playboy owners, and their psuedo-underdog persona. I hope Rick Adleman, his career in ruins is forced into retirement, living out his days consulting Today's Man on turtlenecks. I hope Bibby is so crushed by defeat that he shaves his chin strap. I hope Webber either a) becomes a Bobcat, or b) is relegated to being a walk on extra in a D.L. Hughley sitcom.
For years we've been forced to watch these hosers flop and cheap shot and cry their way to the top of the Western Conference heap, only to be crushed by the Lakers. And after watching these guys, who were playing like they were trying to steal lunch money all day on Sunday, I want to wacth them get crushed. I mean, if the Lakers are going to win anyway, at least give me that