MY WHITE GIRL WANTS TO MOVE BACK TO MICHIGAN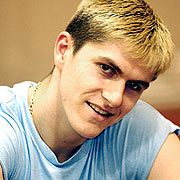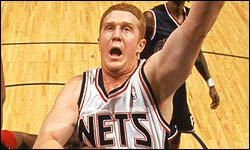 The Pistons, led by the strangely zen-ed out Larry Brown, who blissfully smiled as his team crumbled under the mighty offensive skill set of Brian Scalabrine, blew game 5 in triple overtime on Friday night. This despite the rocking Auburn Hills, filled to the brim with Schlitz-fuled middle-management General Motors exec's, the half-court heroics of some dude with the initials C.B., Kenyon Martin fouling out early, and Jason Kidd clearly playing with one knee donated to science.
At one point, with the Pistons trailing by just a few points, but fading, and with Richard Hamilton on the bench with too many personal foul infractions, this reporter thought he caught a glimpse of madness in Larry Brown's eye. For a brief moment I thought, he's going to put in Darko...but alas, Never Porous Corliss Williamson was called to duty.
Motown then took it to the swamp, and actually looked like a cot damn basketball team, wearing down the Nets and beating them 81-75 in Dirty Jerz, last night. Aside from Ben Wallace's typically psychedelic 20,000 rebound night, Rip Hamilton made the difference, taking advantage of Jason Kidd. Said the masked Detroit 2 guard:
"I know he expends so much energy on the offensive end -- he's the catalyst for that team, he's got to score, pass and rebound, so I just tried to make him work on the defensive end...I think I'm in the best shape in the league running-wise, I can run forever."
Have an Orange Julius, son! You ain't selling drugs in a school zone and you ain't Carl Lewis. Besides, your crazy, clear Zorro mask would get mad irritating were you to run forever. Just beat Lawrence Frank's gang on Tuesday.
After his game 5 display of George Gervin-like offense, Brian Scalabrine was relegated to the end of the bench again, logging 10 minutes of PT and fat fucking donuts in the rebounding and points columns.
Et tu, Lawrence?