MY TIMB'S START FEELING LIKE THEY NIKE AIR'S ON ME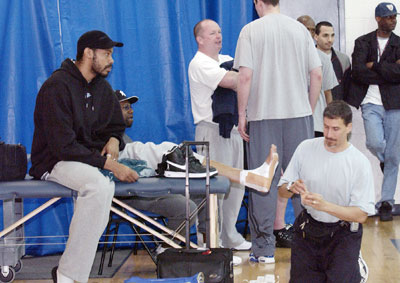 It's about time for Rash to plantar his facitis in Rich Jefferson's ass. I once saw R.J. eating a big ol' plate of eggs with a white girl at some spot on 2nd Ave. It was a good look for him. But Rasheed Wallace getting his Beastmaster on on Thursday night's game 7...that is not such a hot look.
As a weary New Jerz squad drags their tired asses to suburban Detroit, you've gotta think that the Pistons will be firing. Despite being hobbled by crazy bunyon issues or whatever, Rasheed Wallace plans on bringing his A-game to this doe-or-die situation. Not that he's sweating it. Rash told the Detroit News:
"Pressure? This isn't pressure and this is not pain. Afghanistan, Iraq and that other place, Croatia and Bosnia..Now, that is pressure."
Word up, kid!
Wallace continued...
Rasheed: Richard!! Stick to white girls and scrambled eggs, baby! You in Motown now, and that high flying dunking shit is about as kosher as pork on my fork. AND THAT AIN'T KOSHER, B! Try some of that airborne ish and you will be like a Blackhawk, and the God, Rasheed, will be a RPG or some other shit they use to take down choppers. Word to Sam Sheppard.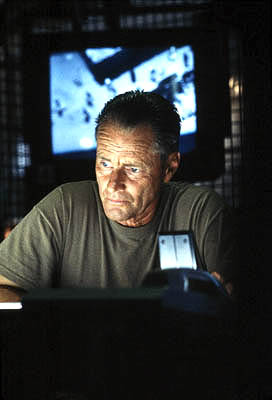 Of course, if Rasheed's athlete's feet act up too much, Coach Larry Brown always has another option. The Detroit News also checked in with the little ray of sunshine at the end of the bench:
'Out comes Milicic, bleach-blonded head bopping, grooving to T.I.'s, "Rubber Band Man."'
Darko: Who I'm is? Donnie Darko! What, you got borscht in your ears?! This ain't no album, this ain't no game. Look how they got me sitting on the bench. Ayo, Dumars! I ain't Swedish, and I don't work at Ikea. SO GET ME AWAY FROM THIS FURNITURE AND LET ME DO MY DAMN THING. I've paid my dues. Ben Wallace went and broke my collar bone 14 times in two months! That shit hurt! Then I got this little carpet bagger yanking on me: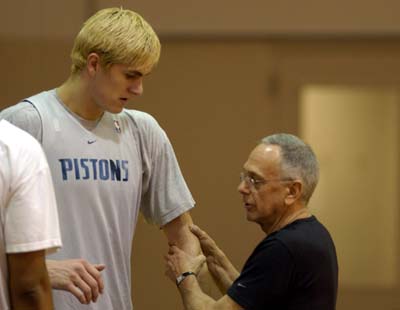 "Larry! Get the fuck off me! Let me live! You got Tayshaun Prince out there like you think he's Bernard King. Don't let the mop top fool you, that's just something I do for the lovely Svetlana's in the Auburn Hills (hey, boo!). I will shoot at these actors like movie directors. AND THIS AIN'T A MOVIE, DOG! Free T.I. in 2004 and Free Darko right now!"