DON'T HAVE ME ZIP DOWN THIS JACKET, OPEN THE OVEN UP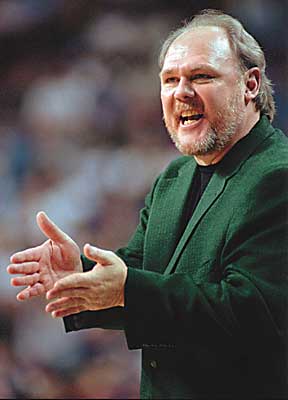 This is your OFFICIAL CHAUNCEY BILLUPS GUIDE TO THE FUTURE CAREER OF GEORGE KARL-HEAD COACH OF THE DENVER NUGGETS
aka
I REMEMBER MILWAUKEE!!!
Phase 1 (The remainder of the season): As Marc Stein calls him, Furious George is in the building talking some shit about how Denver is a dream job (Alex English retired, God!). The players start sensing some stability at the end of the bench. Carmelo lives down the I-thought-I-could-fly-Jet-Blue-with-a-dime-bag-arrest, the I-will-put-money-on-your-motherfucking-brains DVD , the LaLa-Is-My-Boo Barfight , the what-if-I-am-a-Bernard-King-remake (meaning: NO RINGS)...all that SHIT, and he comes back strong with two ankles and his merciless take a game over mid range muscle style. Kenyon and Camby and Nene get their chemistry right and make it hard for Western Conference forwards/centers to eat. Andre Miller somehow gets out of the am-I-overrated-or-what!? seating section. Earl Boykins keeps stabbing squads in the heart. They beat someone like Minnesota or maybe even my Suns (perish the thought!) in a playoff round before losing to, like, the Spurs (since everyone else will), and all of a sudden everyone is talking about....
Phase 2 (Next Year): High expectations, maybe Michael Redd is in the mix, they figure out what to do with their frontcourt (Yo, Kiki! I could've told you K-Mart can't play small forward! It says it right there in the media guide!). They stomp sqauds, it's all bliss, 'Melo joins Wade and LeBron in the WE ARE THE FUTURE realm. They win their division, and lose in a tough Western Conference final to the Spurs (since everyone else will). So close! Kno what I'm saying? Yo son, I had crazy visions!Check it out check it out check it out, boom!
Phase 3 (2006-2007 Season, assuming we are all alive and there is no work stoppage and all that): It's on, son! No, this time IT IS ON. They are so fucking chiseled. Melo is ready for some MVP chants. Oh yeah...oh wait...they start off going 8-11. And...oh no! Marcus Camby's wooden leg has termites!! And...Michael Redd is saying he can't be effective without more shots!! And...what's this?! George Karl is publically insulting his players in the media!! And the Balkan kid they drafted still can't play! That's never happened before! After the All-Star break the team takes a nose dive, and George Karl brings in his go-to savior... 0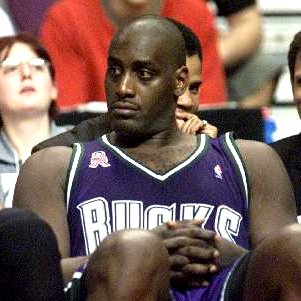 MASE! WE THOUGHT YOU KISSED THE GAME GOODBYE!
And then it goes down like the Titanic, son. Melo gets traded to the Knicks for Toni Kukoc's nephew and Kurt Thomas. Camby retires. K-Mart starts living in Jason Kidd's attic like Jeffery Tambor on
Arrested Development,
and Earl Boykins joins the cast of
Carnivale
.
These are just some thoughts from your NBA version of...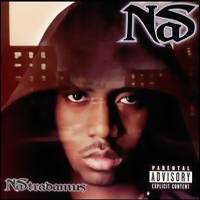 I could be wrong. In the meantime, I would've hung with Mr. Cooper: