LIKE ERIC B. FOR PRES. RESPECT ME IN THIS BITCH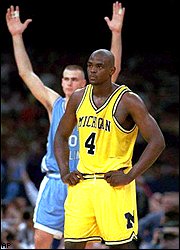 Chris Webber has had a hard year. He's been held in contempt of court in Michigan, had his scholastic basketball career wiped from memory, and was suspended for violating the NBA's drug policy (methinks CDubb may have had a taste for the Special K COS YOU WERE SLEEPING IN THE FINAL FOUR THOSE MANY YEARS AGO, GOD (and besides, did you ever see dude's shoe line?)

Well, the hits keep on coming for Webber. After missing half the season (and seeing his Sacramento Kings do just fine without him), Webber returned from a knee injury and the aforementioned drug suspension. After a few solid performances, Webber's game slipped, and so did the support of the die hard, cowbell banging SUV driving lunatics called Kings fans. Now Webber is apparently thinking about moving to greener pastures (I would cross Detroit off the list). Chris told ESPN.com that, "It actually hurts, I feel more then betrayed."
On a list of things you want to have happen when you're gearing up for a playoff run, having your marquee player feel LIKE HE'S NOT LOVED is not very high up there. Head Coach Rick Adleman's turtleneck is getting more uncomfortable by the day.
What's that you're smelling? Ooh, and Iverson for Webber deal? Right, that's a good idea, Webber should go to the town where the beat up handicapped people for wearing Giants jerseys. That's sharp.