HERE'S WHY THEY CALL ME THE GHOST

Why is this man smiling? Because Dion Glover just took his 10.1 points a game and fled Bad News Bears of Atlanta, asking for and recieving his release. Hawks Head Coach Terry Stotts, choking back the emotional trauma, said, "I knew he wanted to play more." Maybe you'll love him when he fades to black, Terry.
FUCKED AROUND AND SCORED A TRIPLE DOUBLE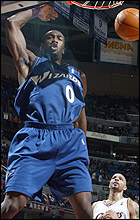 He's so sincere! Gilbert Arenas chalked up a triple double against the Bulls last night (21,12, 13!). The Wiz won their second in a row, and Coach Eddie Jordan, with his fine Reggie Theus-approved hair, claimed, "Bring on the Lakers."
In the visitor's locker room, Baby Bull, Tyson Chandler, who rocked a Did Not Play-Coach's Decision, exclaimed, "I don't know who you could put a freeze on me." Coach Skiles, don't you know Tyson sensitive skin?! Keep him at room temperature at all times, duke!